Invokana Clinical Studies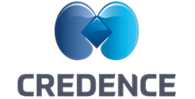 Prescribing Information
Invokana Clinical Studies
CREDENCE Study
The CREDENCE trial and its value from a clinical perspective
David Wheeler, Professor of Kidney Medicine, University College London and Honorary Consultant Nephrologist at the Royal Free London NHS Foundation Trust looks at the findings of the CREDENCE study and the impact of Invokana on the progression of chronic kidney disease (CKD) and cardiovascular complications in patients with both type 2 diabetes and CKD.
Watch Video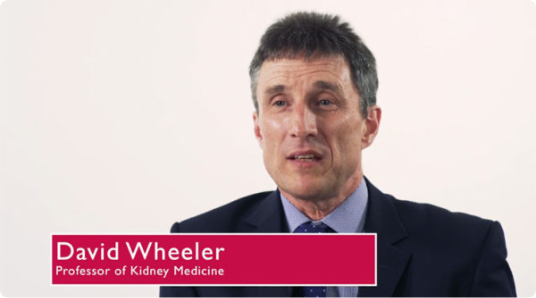 Professor John Wilding, Professor of Endocrinology at the University of Liverpool, and Honorary Consultant Diabetologist, University Hospital, Aintree discusses the CREDENCE study, and how Invokana has emerged as the first treatment to reduce the progression of chronic kidney disease in type 2 diabetes for 20 years.
Watch Video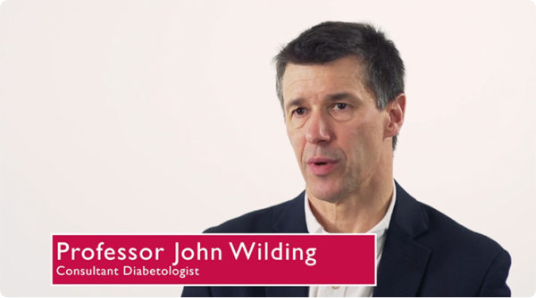 Protect T2DM patients against diabetic kidney disease (DKD) progression
In CREDENCE, Invokana + SoC showed a:
30%

relative risk reduction in the primary composite outcome compared to placebo + SoC.2

HR: 0.70 (95% CI, 0.57-0.84), p<0.0001.
ARR: 18 fewer events per 1000 patient-years

Doubling of Serum Creatinine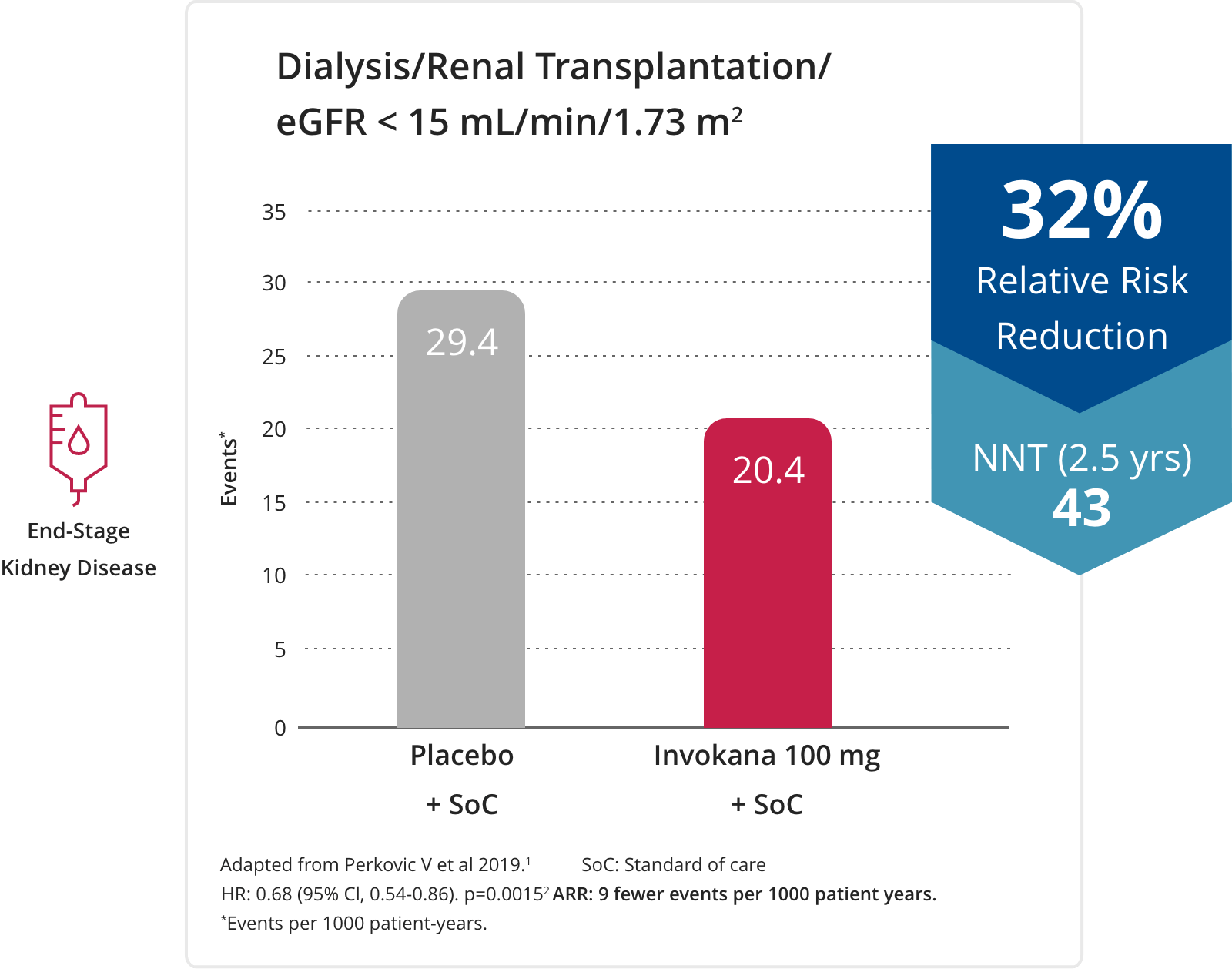 Reduce future kidney damage and slow the decline of kidney function
In CREDENCE, Invokana + SoC showed a:
31%

reduction in the amount of albuminuria.

Calculated by the geometric mean of the urinary-albumin creatinine ratio compared to placebo + SoC1 (95% CI, 26-35)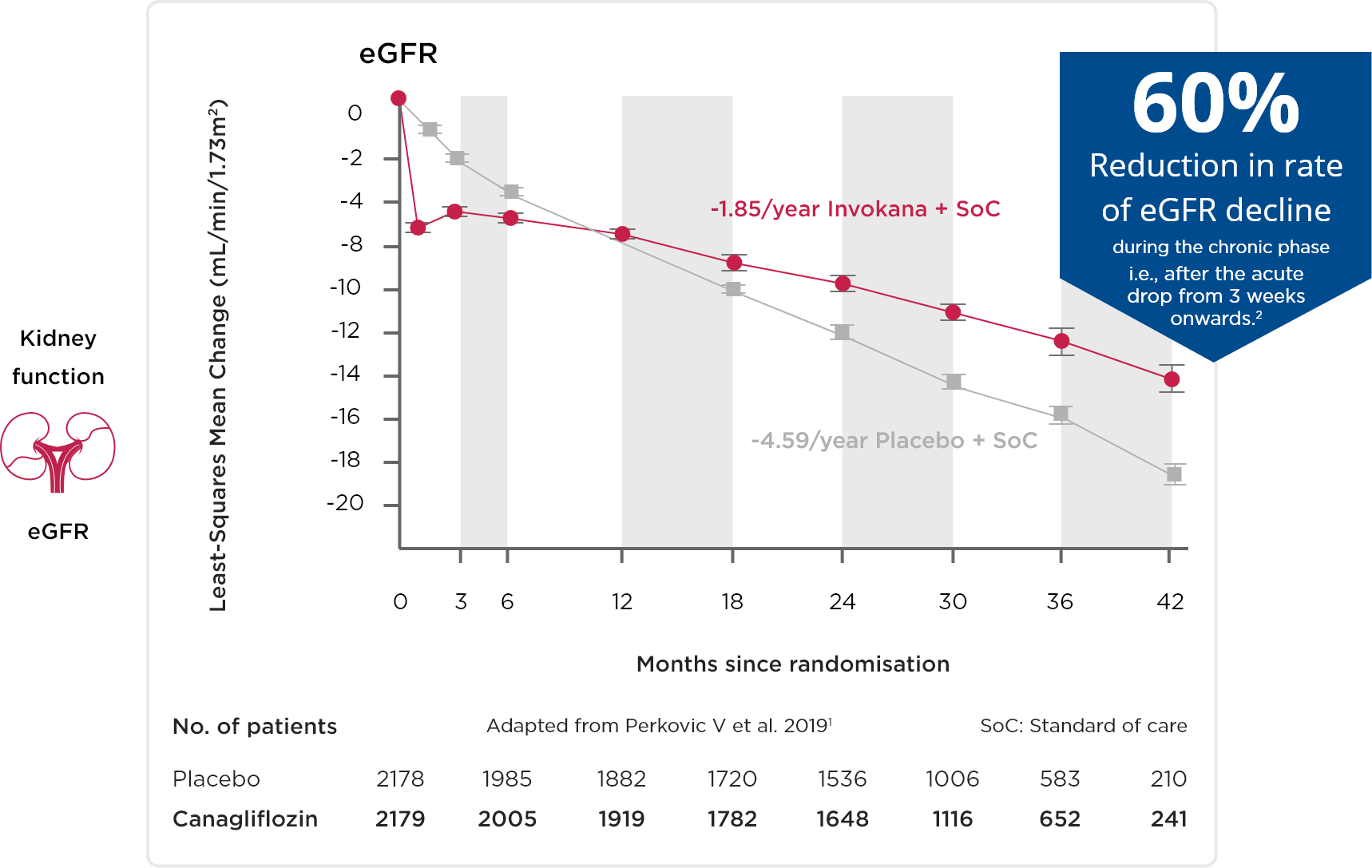 Invokana reduced the rate of kidney function (eGFR) decline by 60% vs placebo.1
In the chronic phase of the trial (from week 3 until the trial end)3
Difference 2.74/year (95% Cl, 2.37 - 3.11)3
Abbreviations
ARR: Absolute Risk Reduction; CI: Confidence Interval; CREDENCE: Canagliflozin and Renal Events in Diabetes with Established Nephropathy Clinical Evaluation; eGFR: estimated Glomerular Filtration Rate; HR: Hazard Ratio; NNT: Number Needed to Treat; RRR: Relative Risk Reduction; SoC: Standard of care; SGLT2i: Sodium-Glucose Co-transporter 2 inhibitor.
References
Perkovic V, Jardine M, Neal B et al. Canagliflozin and Renal Outcomes in Type 2 Diabetes and Nephropathy. N Engl J Med. 2019;380(24):2295-2306. doi:10.1056/nejmoa1811744.
Invokana Summary of Product Characteristics. Napp Pharmaceuticals Limited. Available at: https://www.medicines.org.uk/emc/product/8855/smpc and https://www.medicines.org.uk/emc/medicine/28400#gref [Accessed December 2021].
Jardine MJ, Zhou Z, Mahaffey KW, et al. Renal, Cardiovascular, and Safety Outcomes of Canagliflozin by Baseline Kidney Function: A Secondary Analysis of the CREDENCE Randomized Trial. J Am Soc Nephrol. 2020;31(5):1128-1139. doi:10.1681/ASN.2019111168.