Invokana: Safety & Tolerability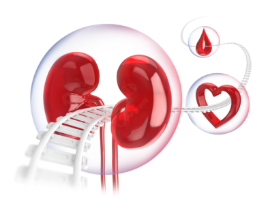 Prescribing Information
Invokana: Safety & Tolerability
Safety & Tolerability
Prescribers should consult the summary of product characteristics (SmPC) in relation to all adverse reactions and safety information.
The CREDENCE trial safety overview1
CREDENCE was a Phase 3 RCT in 4,401 patients with T2DM and established diabetic kidney disease (study duration: 2.6 years).1,2
It compared Invokana 100 mg + standard of care (SoC) to placebo + SoC (SoC included maximum tolerated dose of ACEi or ARB)
It showed:1
No significant difference in risk for amputation. HR: 1.11 (95% CI, 0.79-1.56)1
No significant difference in risk for fractures. HR: 0.98 (95% CI, 0.70-1.37)2
A small absolute increase in the risk of DKA. 2.1 vs 0.3 events per 1000 patient-years1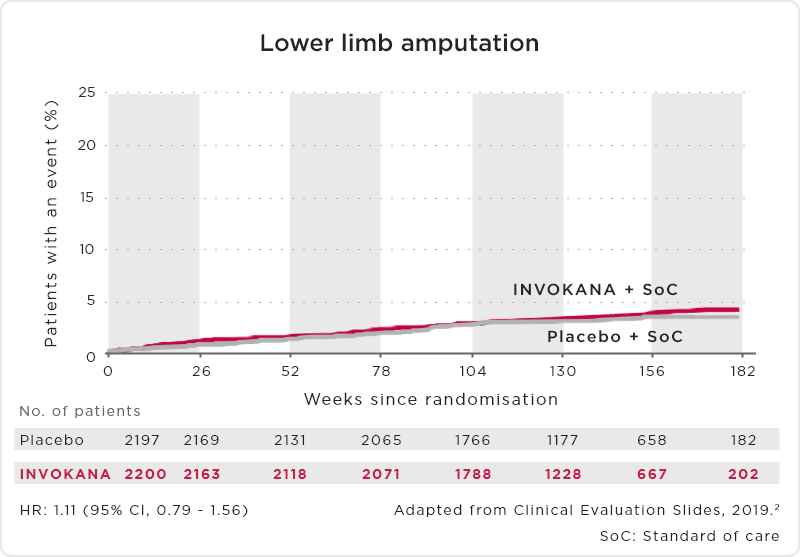 The safety of Invokana has been evaluated in 22,645 patients with type 2 diabetes, including 13,278 patients treated with Invokana in 15 double-blind, controlled phase 3 and phase 4 clinical studies.1
Cases of Diabetic Ketoacidosis (DKA) (≥1/10,000 to <1/1,000), Lower Limb Amputation (≥1/1,000 to <1/100) and Fournier's Gangrene (unknown frequency) have been reported. See the SmPC for further details.1
| System organ class | Very common (≥1/10) | Common (≥1/100 to <1/10) |
| --- | --- | --- |
| Infections and infestations | Vulvovaginal candidiasis | Balanitis or balanoposthitis, urinary tract infection (pyelonephritis and urosepsis have been reported post-marketing) |
| Metabolism and nutrition disorders | Hypoglycaemia in combination with insulin or sulphonylurea |   |
| Gastrointestinal disorders |   | Constipation, thirst, nausea |
| Renal and urinary disorders |   | Polyuria or pollakiuria |
| Investigations |   | Dyslipidaemia, haematocrit increased |
Rates of renal and urinary disorders in patients treated with Invokana in four pooled 26-week placebo-controlled trials.

 
Placebo (n=646)
Invokana 100 mg (n=833)
Invokana 300 mg (n=834)
Polyuria or pollakiuria
0.8%
5.3%
4.6%
Urinary tract infection
4.0%
5.9%
4.3%

Adapted from Usiskin K, et al 2014.3
Diabetic ketoacidosis – frequency rare (≥1/10,000 to <1/1,000)
Rare cases of diabetic ketoacidosis (DKA) including life threatening and fatal cases, have been reported with SGLT2 inhibitors, including Invokana. In some cases presentation was atypical, with only moderately increased blood glucose values, below 14 mmol/L (250 mg/dL). If DKA is suspected or diagnosed, treatment with Invokana should be discontinued immediately.1
Treatment should be interrupted in patients who are hospitalised for major surgical procedures or acute serious medical illnesses. Monitoring of ketones is recommended in these patients. Measurement of blood ketone levels is preferred to urine. Treatment with Invokana may be restarted when the ketone values are normal and the patient's condition has stabilised.1
Restarting SGLT2i treatment in patients with previous DKA while on SGLT2i treatment is not recommended unless another clear precipitating factor is identified and resolved.1
Signal for increased risk of lower limb amputation (LLA) – frequency uncommon(≥1/1000 to <1/100)
An increased risk of LLA was seen in long-term clinical studies of Invokana in patients with T2DM and established cardiovascular disease (CVD) or at least 2 risk factors for CVD.1
This risk equates to an additional 0.29 amputations per 100 years of patient treatment vs placebo,1 but has not been seen across the other 12 completed Phase III or IV canagliflozin clinical trials, which included more than 8,100 type 2 diabetes patients with low CV risk, nor in a real world evidence study in a more general population of patients with type 2 diabetes.4-7
In patients with established CVD there was significant increased risk of below-knee amputation in patients taking any SGLT2 inhibitor versus non SGLT2 inhibitors.8 A review committee investigated the potential risk of LLA and concluded that all patients taking an SGLT2 inhibitor should be counselled about preventative footcare and maintaining adequate hydration, as the underlying mechanism has not been established. Subsequently, a warning of the potential increased risk of LLA (mostly affecting the toes) has been added to the SmPC for all SGLT2 inhibitors, highlighting the importance of routine preventative foot care.7
Necrotising fasciitis of the perineum (Fournier's gangrene) – frequency not known and cannot be estimated from the available data
Post-marketing cases of necrotising fasciitis of the perineum, (also known as Fournier's gangrene), have been reported in female and male patients taking SGLT2 inhibitors. This is a rare but serious and potentially life-threatening event that requires urgent surgical intervention and antibiotic treatment. Patients should be advised to seek medical attention if they experience a combination of symptoms of pain, tenderness, erythema, or swelling in the genital or perineal area, with fever or malaise. Be aware that either uro-genital infection or perineal abscess may precede necrotising fasciitis. If Fournier's gangrene is suspected, Invokana should be discontinued and prompt treatment (including antibiotics and surgical debridement) should be instituted.1
Urinary tract infections - frequency common (≥1/100 to <1/10)
In clinical studies, urinary tract infections were more frequently reported for canagliflozin 100 mg and 300 mg (5.9% versus 4.3%, respectively) compared to 4.0% with placebo. Most infections were mild to moderate with no increase in the occurrence of serious adverse reactions. In these studies, subjects responded to standard treatments while continuing canagliflozin treatment.1
However, post-marketing cases of complicated urinary tract infections including pyelonephritis and urosepsis have been reported in patients treated with canagliflozin, frequently leading to treatment interruption.1
Abbreviations
ACEI: Angiotensin-Converting Enzyme Inhibitors; ARB: Angiotensin II Receptor Blockers; CREDENCE: Canagliflozin and Renal Events in Diabetes with Established Nephropathy Clinical Evaluation; CVD: Cardiovascular Disease; DKA: Diabetic Ketoacidosis; HR: Hazard Ratio; LLA: Lower Limb Amputations; RCT: Randomised Controlled Trial; SGLT2i: Sodium-Glucose Co-transporter 2 inhibitor; SmPC: Summary of Product Characteristics; SoC: Standard of Care; T2DM: Type 2 Diabetes Mellitus; UACR: Urinary Albumin/Creatinine Ratio.
References
Invokana Summary of Product Characteristics. Napp Pharmaceuticals Limited. Available at: https://www.medicines.org.uk/emc/product/8855/smpc and https://www.medicines.org.uk/emc/medicine/28400#gref [Accessed December 2021].
CREDENCE Trial, George Institute Clinical Evaluation Slides, 2019. Available at: https://view.publitas.com/george-institute/credence-trial-results-and-slides/page/1 [Accessed December 2021].
Usiskin K, et al. Safety and Tolerability of Canagliflozin in Patients With Type 2 Diabetes Mellitus: Pooled Analysis of Phase 3 Study Results. Postgrad Med. 2014;126(3):16-34. doi:10.3810/pgm.2014.05.2753.
Neal B, et al. Canagliflozin and Cardiovascular and Renal Events in Type 2 Diabetes. N Engl J Med. 2017;377(7):644–657. doi: 10.1056/NEJMoa1611925.
Yuan Z, DeFalco F, Ryan P et al. Risk of lower extremity amputations in people with type 2 diabetes mellitus treated with sodium-glucose co-transporter-2 inhibitors in the USA: A retrospective cohort study. Diabetes, Obesity and Metabolism. 2017;20(3):582-589. doi:10.1111/dom.13115.
Canagliflozin (Invokana, Vokanamet): signal of increased risk of lower extremity amputations observed in trial in high cardiovascular risk patients. June 2016. Available at: https://www.gov.uk/drug-safety-update/canagliflozin-invokana-vokanamet-signal-of-increased-risk-of-lower-extremity-amputations-observed-in-trial-in-high-cardiovascular-risk-patients [Accessed December 2021].
European Medicines Agency. SGLT2 inhibitors: information on potential toe amputations to be included in prescribing information, April 2017. Available at: https://www.ema.europa.eu/en/documents/referral/sglt2-inhibitors-previously-canagliflozin-article-20-procedure-sglt2-inhibitors-information_en.pdf [Accessed December 2021].
Udell J, Yuan Z, Rush T, et al. Cardiovascular Outcomes and Risks After Initiation of a Sodium Glucose Cotransporter 2 Inhibitor. Circulation. 2018;137(14):1450-1459. doi:10.1161/circulationaha.117.031227.