High burden of depressive symptoms in patients with diabetes, data from developing countries
Most data documenting the diabetes-depression link are from high-income countries. Using data collected from 21 developing countries in 2011 from the International Diabetes Management Practices Study, a multicentre, cross-sectional observational study of adults with type 1 or type 2 diabetes (T1DM/T2DM), the researchers established that depressive symptoms are common in developing countries.
Complete data from the 9-item Patient Health Questionnaire (PHQ-9) were collected from 9865 eligible participants, 2280 of whom had T1DM and 7585 of whom had T2DM. Of those with T2DM, 4729 patients were treated with oral glucose-lowering drugs (OGLDs) alone, 1892 were treated with OGLDs plus insulin and 964 were treated with insulin alone.
Depressive symptoms (PHQ-9 score≥5) were reported by 30.7% (95% confidence interval [CI], 28.8-32.6) of patients in the T1DM group. Symptoms were mild in 20.4% of patients, moderate in 8.9% of patients and severe in 1.3% of patients.
In the T2DM group, 33.1% of patients reported depressive symptoms (95% CI, 32.1-34.2); 22.1% were mild, 9.9% were moderate and 1.2% were severe. The highest prevalence of 47% is reported in patients with T2DM treated with insulin (see figure below).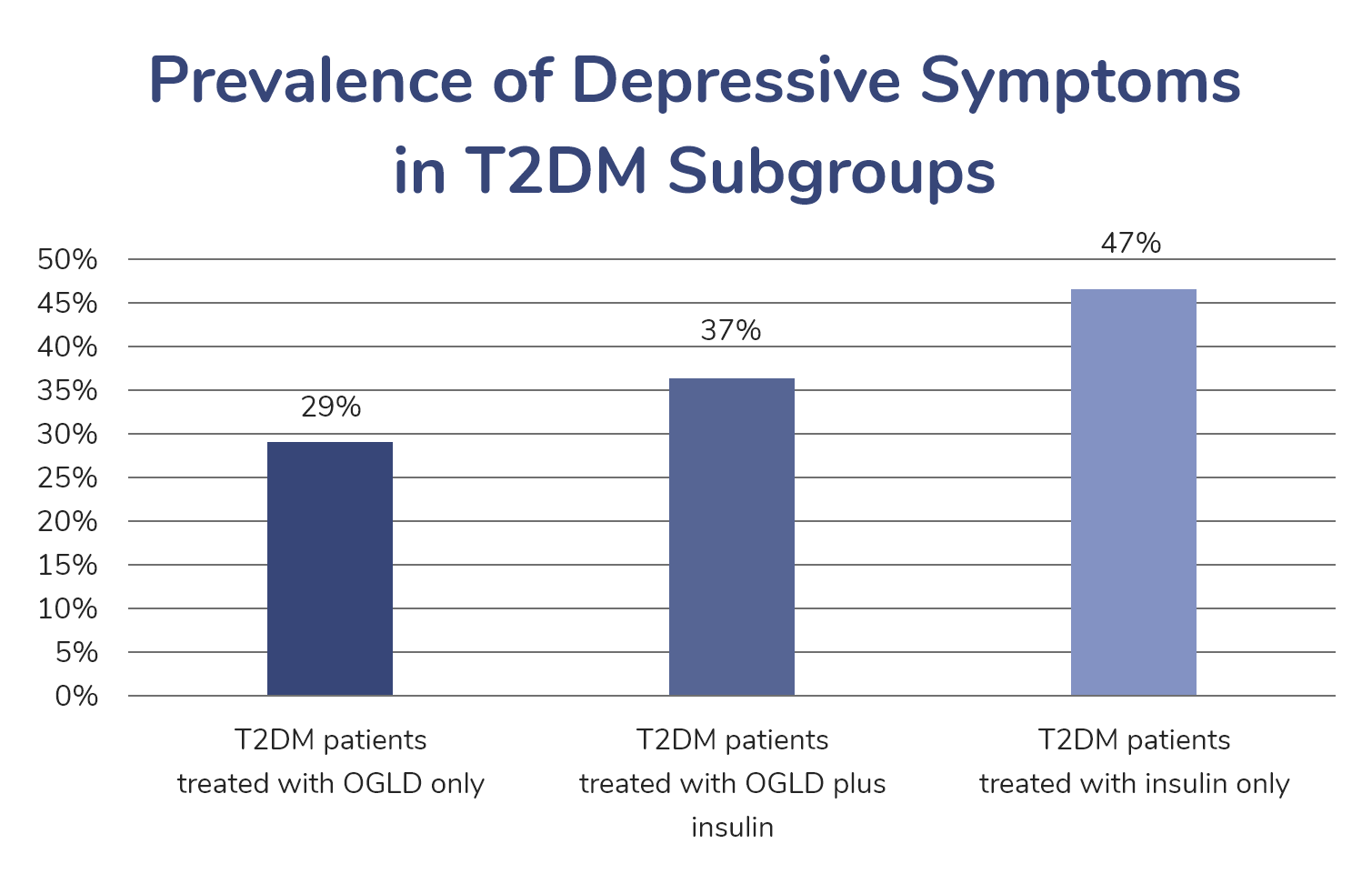 Female sex, complications and low socioeconomic status were independently associated with depressive symptoms. In T1DM and in the T2DM OGLDs-only group, depression was associated with poor glycaemic control.
Using real-world data collected from developing countries, the study confirmed similarly high proportions of patients with T1DM or T2DM with mild (~20%) and moderate to severe (~10%) depressive symptoms as observed in developed countries.
"Although this is data from developing countries, we have seen similar data in the past from higher income countries. It is important for all healthcare professionals managing people living with either type 1 or type 2 diabetes to be aware that depressive symptoms may be present in the people they are treating. It is important to screen for and use a multi-disciplinary team approach to optimally manage patients."

Dr. Holmes
Prescribing information for Invokana (canagliflozin)
Napp brings you recent and clinically relevant publications in the evolving field of Type 2 diabetes recommended by an international panel of specialists.
Editorial Board
Image

Dr. Salvatore A. De Cosmo
Head of Unit of Internal Medicine and Endocrinology, Scientific Institute "Casa Sollievo della Sofferenza" San Giovanni, Rotondo, Italy
,
Image

Dr. Juan José Gorgojo Martínez
Head of Department of Endocrinology and Nutrition, University Hospital Fundación, Alcorcon, Madrid, Spain
,
Image

Dr. Patrick Holmes
General Practitioner, St. George's Medical Practice, Darlington, UK
Editorial Board
Image

Dr. Salvatore A. De Cosmo
Head of Unit of Internal Medicine and Endocrinology, Scientific Institute "Casa Sollievo della Sofferenza" San Giovanni, Rotondo, Italy
Image

Dr. Juan José Gorgojo Martínez
Head of Department of Endocrinology and Nutrition, University Hospital Fundación, Alcorcon, Madrid, Spain
Image

Dr. Patrick Holmes
General Practitioner, St. George's Medical Practice, Darlington, UK
Publication under Spotlight
High Prevalence of Depressive Symptoms in Patients With Type 1 and Type 2 Diabetes in Developing Countries: Results From the International Diabetes Management Practices Study
Diabetes Care
2021;44(5):1100-1107
Authors:Pablo Aschner, Juan José Gagliardino, Hasan Ilkova, Fernando Lavalle, Ambady Ramachandran, Jean Claude Mbanya, Marina Shestakova, Yann Bourhis, Jean-Marc Chantelot and Juliana C N Chan
READ MORE